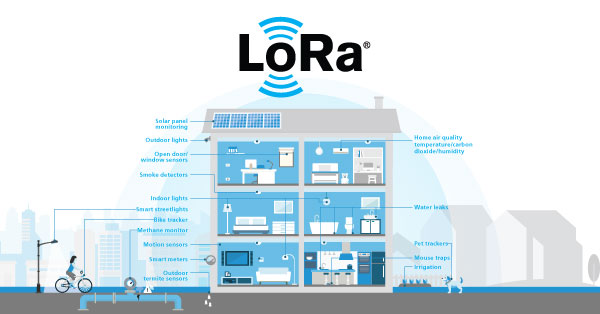 Amazon Sidewalk is enabling new services to help benefit everyone, from locating lost items to extending the range of smart devices and beyond by harnessing the limitless possibilities of developer and community innovation.
The Power of Semtech's LoRa® Technology in Amazon Sidewalk
Semtech, a leader in IoT solutions, provides key foundational technologies powering Amazon Sidewalk to provide an extremely long-range wireless reach, creating a true community network for devices. These technologies are:
GFSK, which enables a high data rate (HDR), medium-range connection suitable to connecting devices outside of the home
LoRa, which enables a low data rate (LDR), long-range connection suitable to connecting devices around your neighborhood. Amazon Sidewalk can increase its range tremendously by leveraging the power of the LoRa physical layer to provide an expansive, reliable coverage layer. The LDR with LoRa is not only to target the longest range, most demanding applications — but also to ensure seamless coverage when gateways are placed in an indoor environment.
To see the benefit that LoRa technology brings we performed a range test in a conventional suburban environment to simulate an Amazon Sidewalk gateway device. The setup places a test transmitter in a location where an Amazon Echo, or similar gateway device, is typically located.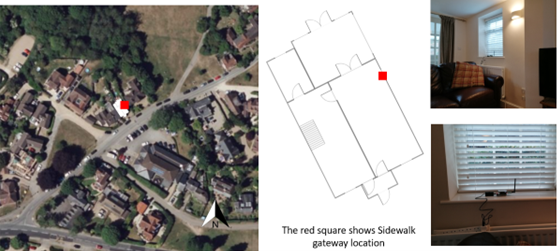 With this device transmitting a steady stream of Sidewalk packets we map the available coverage. The first set of results shows how the Amazon HDR performs. The 150m coverage looks good, especially considering this indoor-to-outdoor propagation.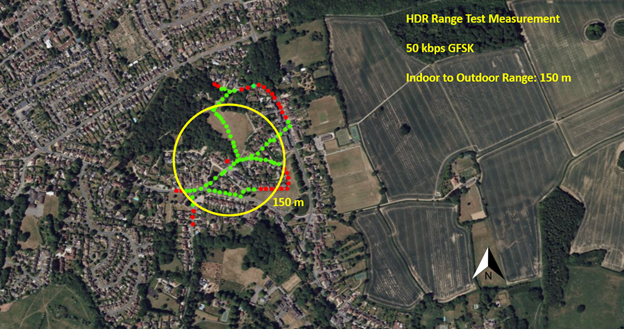 In the next picture we see the testing exploiting the LDR with LoRa. This shows the 2X range difference that the technology brings. For a wide range of applications, such as pet tracking and location of lost devices, this level of coverage is indispensable in providing the user experience that Amazon Sidewalk promises to deliver. The real benefit of Amazon Sidewalk is in enabling applications previously impossible with Bluetooth and Wi-Fi connectivity, which can only extend into portions of the house and the immediate vicinity directly outside… and in many cases, not even that far.
Benefits of LoRa Technology in Long Range Communication Devices on Amazon Sidewalk
This LDR capability with LoRa is built natively into every Amazon Sidewalk gateway device, ready to be used in your application with no additional device complexity when you use a Semtech radio.
And since Amazon Sidewalk is enabled by a growing community of users who share a small, completely secure, segment of their connectivity with other Sidewalk users, range of the actual network coverage grows as well. And with the power of long-range connections enabled by LoRa communication technology, your smart home device can have a range of miles over this network. ​
So, for your application to cover beyond the immediate sidewalk, or to benefit from the most robust coverage the system has to offer, be sure to implement the low data rate (LDR) with LoRa in your end device design.
Get started developing today.
Semtech, the Semtech logo, and LoRa® are registered trademarks or service marks of Semtech Corporation or its subsidiaries.