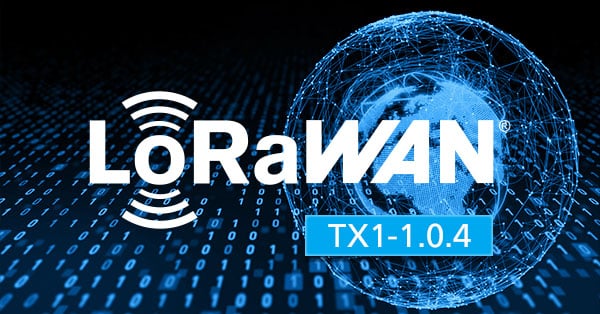 The LoRa Alliance® is a global association responsible for designing, promoting and certifying devices for the open LoRaWAN networking standard for low power, wide area networks (LPWANs). LoRaWAN is an open networking protocol that delivers highly secure bi-directional communication, mobility and localization features used for Internet of Things (IoT) solutions. LoRaWAN networks operate in the unlicensed portion of the RF spectrum. People and companies broadcasting using this portion of the spectrum do not need a license from a governmental body to do so. With 148 LoRaWAN network operators in 162 countries, LoRaWAN networks account for more than one third of all LPWAN deployments in the world, according to industry research firm IoT Analytics.
Last week, the LoRa Alliance released a new specification for the LoRaWAN networking protocol: LoRaWAN TS1-1.0.4.
As the press release states, the purpose of this new specification is to "simplify the technology's development, deployment and interoperability." To this end, the new specification provides a predefined reference implementation that developers can use as a starting point for developing their own IoT product. From there, developers can use the LoRaWAN Certification Test Tool (LCTT) to verify that their new product meets requirements to become LoRaWAN CertifiedCM.
This updated specification provides clarifications to help simplify the management of LoRaWAN networks. Additionally, the LoRaWAN TS1-1.0.4 version includes security updates to further strengthen already strong security features in the specification. The new specification also includes these key updates:
Normative and grammatical clarification
Renaming some of the terms and identifiers to clarify their use
Class A RX window opening requirements are clarified
Full reference made to the Regional Parameters (RP002) companion document
Improvements and clarification to the ADR behaviors and including new backoff examples
MAC Command handling and "persisted" MAC commands overview including priority of responses
Handling of frames greater than max frame length clarified
Clarify Class B and Class C modes of operation and priority of Class A downlinks over Class C downlinks
Security features/clarifications for counters and persisted parameters
Visit the LoRa Alliance website to download the latest version of the LoRaWAN specification now!
Semtech, the Semtech logo and LoRa® are registered trademarks or service marks of Semtech Corporation or its affiliates.