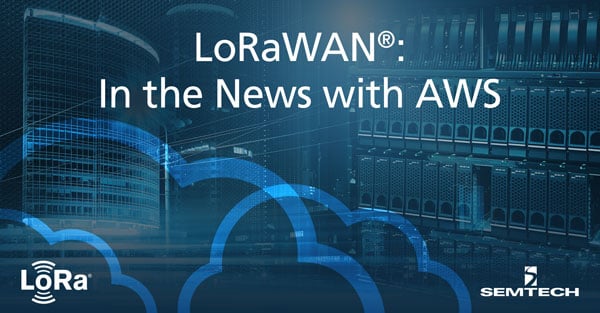 This week Semtech and Amazon Web Services (AWS) announced a collaborative effort, resulting in a new offering from AWS that integrates LoRaWAN® network connectivity with AWS IoT Core: AWS IoT Core for LoRaWAN. A new way for customers to connect and manage wireless devices via the Amazon Cloud, AWS IoT Core for LoRaWAN builds on the open LoRaWAN networking specification, which, in turn, is based on Semtech's LoRa® chipsets. A widely adopted connectivity technology, LoRaWAN is widely used in low power wide area networking. Indeed, at the virtual AWS re:Invent conference, Dirk Didascalou, VP of AWS IoT, discussed how organizations are using AWS IoT and AWS IoT Core for LoRaWAN to solve real-world challenges today.
This new offering helps customers save time and money by making it easy to connect private networks using the LoRaWAN protocol to a myriad of AWS cloud services. Network engineers can connect devices and gateways to the cloud using the AWS IoT console. Furthermore, as a fully-managed service, it greatly reduces the operational overhead of deploying and managing the associated network infrastructure for a LoRaWAN network deployment.
Additionally, AWS IoT Core for LoRaWAN supports LoRa Basics™ Station, a packet forwarder which makes it possible for engineers to use off-the-shelf devices without needing to write or test custom gateway software to ensure compatibility with the LoRaWAN Protocol.
Once your LoRaWAN network gateways are provisioned and connected, device data is securely routed to the AWS IoT Core Rules Engine and AWS IoT Analytics, which makes developing rich, data-driven IoT applications quicker and easier. For instance, developers can use simple queries to respond to device data, raising an alert or querying metrics for connected devices and gateways for troubleshooting purposes.
AWS has worked with leading gateway manufacturers and system integrators to offer hardware and consulting services designed to help customers get up and running quickly, and Developer Starter Kits will soon be available.
In addition, Semtech has worked with AWS and TensorIoT to provide two Developer Kits designed to enable customers to quickly deploy sensors and build a proof-of-concept: the Asset Tracking Kit and the Smart Building Kit. The Asset Tracking Kit includes an outdoor gateway that leverages the LoRaWAN protocol, along with six industrial tracking devices. With this kit, customers can attach trackers to assets of interest and track their movement on a cloud dashboard. In contrast, the Smart Building Kit is focused on detecting things like leaks, desk and room occupancy, and the temperature and humidity of a single building.
To discover more about AWS IoT Core for LoRaWAN offering, check out the AWS re:Invent sessions for more information.
Semtech, the Semtech logo and LoRa® are registered trademarks or service marks, and LoRa Cloud™ is a trademark or service mark of Semtech Corporation or its affiliates.