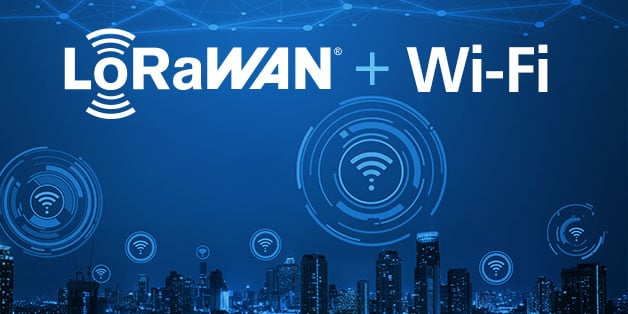 What do you get when you combine the LoRaWAN® protocol with Wi-Fi? A cost-effective approach to an Internet of Things (IoT) network deployment that offers significant opportunity for Wi-Fi providers and IoT developers. By employing a network mutualization scheme combining the LoRaWAN protocol and Wi-Fi connectivity, Wi-Fi providers can expand their business to provide coverage for both broadband applications and massive IoT deployments that leverage the (free) unlicensed radio spectrum.
The LoRa Alliance® in conjunction with the Wireless Broadband Alliance (WBA), have released a new whitepaper illustrating the importance of selecting an intelligent multi-radio strategy in a connected world. Two of the most widely-adopted unlicensed IoT technologies, the LoRaWAN protocol and Wi-Fi address the bulk of IoT use cases. This collaborative whitepaper demonstrates that hybrid solutions increase market opportunity and furthermore, offers enhanced network solutions and a strong return on investment.
Informed by the results of nine months of field trials managed by project leaders from both Charter Communications and Semtech, the research for the white paper involved eleven companies around the world that implemented and tested using Wi-Fi and LoRaWAN together in a hybrid solution.
The paper addresses a variety of use cases, including:
Smart city deployments (such as light poles, energy management, and event attendance monitoring)

Smart building deployments (including multi-family dwellings)

In-store retail analytics

Wildlife tracking

Automotive asset tracking
These examples are offered both to illustrate the synergies between the two technologies and to serve as an inspiration to existing market players. These use cases will paint the picture for developers to drive new ground-breaking applications, and offer Wi-Fi providers a springboard for creating innovative network deployments that combine both technologies to support these pioneering solutions.
Indeed, as Donna Moore, CEO and Chairwoman the LoRa Alliance commented, this collaboration "clearly shows Wi-Fi and LoRaWAN can deliver real business advantages and improved ROI." For his part, Tiago Rodrigues, CEO of the WBA has concurred, extolling the value of deploying a combination of these technologies and explaining that the data shows how "Wi-Fi and LoRaWAN can work together to augment capacity, coverage and increase ROI."
Interested in reading the paper? Download it from the LoRa Alliance or from the WBA.
Semtech, the Semtech logo and LoRa® are registered trademarks or service marks of Semtech Corporation or its affiliates.