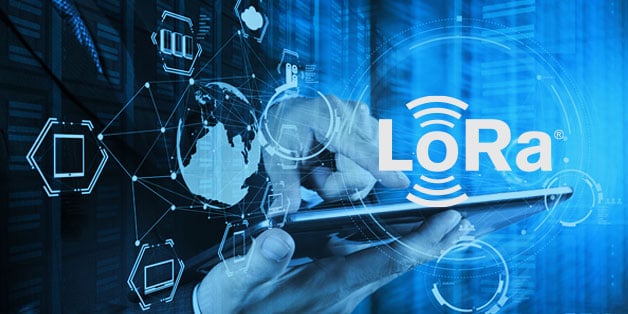 Semtech's LoRa® developer ecosystem team is always listening to our developers to better understand your wants and needs. We work to create content and tools that help you in your efforts to bring Internet of Things (IoT) solutions to life with LoRa chipsets and the open LoRaWAN® protocol.
One of the key components for launching any such solution is a network server based on the open LoRaWAN protocol. The network server acts as the 'brains' of your network. It facilitates the connectivity and management of your devices, and handles connections with gateways and application servers.
To help the ecosystem of developers leveraging the LoRaWAN protocol, Semtech is launching a network server that will be integrated into the LoRa Developer Portal. This network server is intended to help you develop and prototype solutions using the LoRaWAN protocol so you can easily get your IoT ideas off the ground. You can connect up to 10 devices and three gateways, giving you a hosted environment to build and test your solutions before you go into production.
Best of all, it's completely free!
The Semtech Network Server is an instance of ChirpStack, an open source network server based on the open LoRaWAN protocol. Compliant with the latest version of the LoRaWAN specification, it is used widely in the enterprise world for deployments leveraging the LoRaWAN protocol. Furthermore, it supports 10 different frequency plans covering approximately 100 countries.
Why provide this free resource?
We want to enable you to:
Learn how to work with a network server and build great IoT solutions based on the LoRaWAN protocol
Prototype and test your solutions
Validate the functionality of your solutions, from the end node application all the way to the Cloud
Benchmark different solutions in a hosted environment, totally free of charge
This hosted environment can also be used with Semtech's LoRa Cloud™ services. These services allow you to easily claim your devices, get insights into the devices themselves, and allow you to utilize geolocation services built-in to the LoRa Edge™ (LR1110) chipset.
Getting Started Is Easy
All you need to do is sign up for a LoRa Developer Portal account. If you have one, then you are ready to go. If not, simply click here to register.
Once you have registered, you'll not only get access to the hosted network server, but also the all the goodness the LoRa Developer Portal has to offer, including LoRaWAN Academy™, hands-on labs, interactive tutorials, and the ability to interact with a dedicated developer community on the forums.
When you are ready to go into production, you can migrate your solution to any one of our Semtech partners who provide commercial-grade network server solutions. To make it even easier, you can use the LoRa Cloud Device Join service to move your claimed devices to the network server of your choice.
By empowering developers and giving you the tools that you need to build your prototypes, we hope to help you realize the possibilities of the LoRaWAN protocol in the IoT while unlocking the potential of your solutions!
Click here to get started, and have fun!
Semtech, the Semtech logo and LoRa® are registered trademarks or service marks, and LoRa Edge, LoRa Cloud and LoRaWAN Academy are trademarks or service marks of Semtech Corporation or its affiliates.