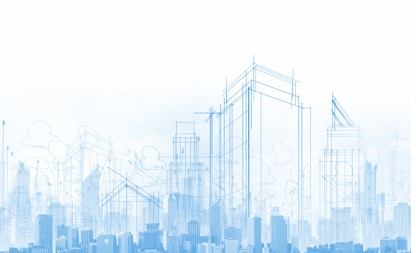 Simply put, today's marketplace requires smarter workspaces. Making a building "smart" has become a significantly important factor when it comes to both new construction and when doing retrofits. By making buildings smarter, companies can reap significant economic benefits, including everything from saving on energy and rent to improvements in employee wellbeing and productivity.
The improvement in employee well-being and productivity gains that have been seen are of key importance, according to the Jones Lang LaSalle (JLL) 3-30-300 rule. This rule demonstrates the average orders of magnitude when it comes to an organization's cost for utilities, rent, and employee productivity (per square foot, per year).
For example, while decreases in energy cost and a more cost-effective allocation and use of desk space and conference rooms certainly impact the bottom line to a degree, increased employee productivity has a huge effect. As noted in the JLL article[1], smart buildings have been shown to result in the following averages when it comes to increased productivity:
Individual temperature control: +3%
Improved ventilation: +11%
Better lighting: +23%
Access to natural environment: +18%
In addition to cost savings and improved employee productivity, smart buildings can even make people safer.
LoRa®-based Panic Buttons
The availability of panic buttons for employees in the hospitality industry has become law in Illinois, New Jersey and Washington State, and a similar law has been introduced in California. In response, the American Hotel and Lodging Association (AHLA) established the "5-Star Promise", encouraging hotels to comply with industry guidelines to ensure a safer working environment for workers, with harassment issues being front and center. Three of those five stars deal with implementing preventative measures on-site:
Ensure mandatory anti-sexual harassment policies are in place in multiple languages
Provide ongoing training and education for employees on identifying and reporting sexual harassment
Provide U.S. hotel employees with employee safety devices to help them feel safe on the job
LoRa devices and the LoRaWAN® protocol offer an ideal solution for providing connectivity throughout a hotel to ensure the new mandates for employee safety are met. Indeed, myDevices recently introduced one such solution.
Usually used in conjunction with Wi-Fi or Bluetooth to determine button location, LoRa and LoRaWAN provide the means to easily cover a hotel quickly and cost effectively. Additionally, LoRaWAN has the added benefit of working in out-of-the-way places such as stairwells, basements, outdoors, and in elevators, where attacks can frequently occur and where Wi-Fi coverage is typically poor. Finally, LoRa-based devices can work for months at a time, thereby reducing the risk of a device not functioning due to battery failure. Hotels can easily cover large areas with just a few gateways and minimal installation efforts. A several hundred room hotel can usually be covered in a matter of days. By implementing such a solution, hotels are seeing less staff turnover and reduced employer liability.
Semtech's Smart Building Reference Kit
To make your buildings smarter, Semtech offers the LoRa Smart Building Reference Kit, which is designed to enable your smart building implementation and accelerate the development of LoRaWAN-based smart building solutions. You can also use it as a portable proof-of-concept demonstration for a wide variety of stakeholders. Self-contained, the Smart Building Reference Kit is easy to set up and take down. You can even move the network in a matter of minutes.
This Smart Building Reference Kit uses readily-available hardware so that your solution developers can focus on the important things, such as collecting and analyzing data related to building operations, efficiencies, and occupancy. The data collected is displayed as an intuitive, browser-based dashboard, where it can also be analyzed. To see the dashboard in action, you can find a link and credentials in the Smart Building Reference Kit User Guide.
Thanks to the ease of setup and the intuitive dashboard, you'll quickly be able to see your return on investment.
Conclusion
Overall, the smart building segment is widely viewed as one of the top three market segments for growth in the next five years for LPWAN technologies, as noted by IHS Markit. With this growth has come the recognition that LoRa devices and the LoRaWAN protocol is not just for outdoor "macro" networks but is an ideal connectivity technology for enabling us to make our workspaces, buildings, and homes smarter and more productive. Additionally, there are a number of proven use cases in high-impact areas where LoRa devices and the LoRaWAN protocol have been shown to provide a number of advantages. These advantages include:
Best-in-class power consumption performance; ideal for battery-powered devices in hard-to-reach locations

Building-level coverage independent of any public LoRaWAN network or existing building automation system

Private Networks: Enterprise customers can use their on-site corporate IT infrastructure, or can bypass it altogether

Public Networks: Network operators can add indoor gateways

A broad ecosystem of devices, gateways, and applications already available

[1] https://www.us.jll.com/en/trends-and-insights/workplace/a-surprising-way-to-cut-real-estate-costs