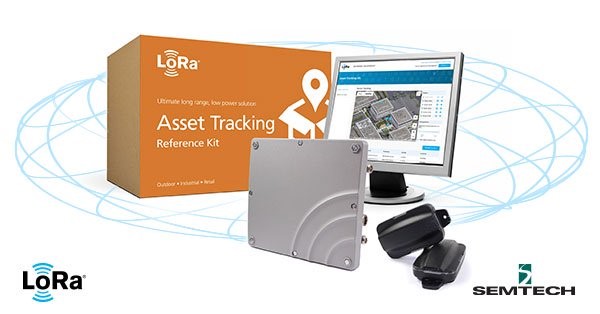 Semtech's LoRa® devices are a leading technology for connecting proven applications in the Internet of Things (IoT) space. Logistics management and asset tracking can especially benefit from deploying such devices. In order to enable enterprise customers and other companies such as systems integrators to demonstrate the capabilities of LoRa-based sensors or LoRaWAN®-based asset tracking, Semtech has launched a new demonstration tool, the Asset Tracking Reference Kit. This new kit allows companies to quickly gain firsthand experience and see the value IoT data can provide to their business digitalization and strategy. The goal of this kit is to accelerate the transformation of proof of concepts (PoCs) into business opportunities for companies in the LoRa ecosystem.
LoRa and GNSS: A Complementary Combination
Knowing the location of something is a key facet of understanding the world around us. In the English language, there are five words most closely associated with investigation and understanding known as the "Five-Ws": who, what, when, where, and why. Without "where", you don't have the complete story. Throughout history, people have made maps, studied the stars and created ever more elaborate technologies to more precisely determine where they are, and where they are heading. Since the advent of civilian satellite-based navigation in the 1980s, an ever-widening number of uses and applications have been developed and deployed.
In technical terms, the Global Positioning System (GPS) is a specific constellation of navigation satellites launched and operated by the U.S. Government. Other governments have launched similar systems intended to provide navigation signals with their own specific goals, or as contributions to the international satellite navigation community. Collectively, the satellite navigation infrastructure worldwide is referred to as the Global Navigation Satellite System (GNSS). Some of these other satellite navigation systems include GLONASS (Russia), Galileo (European Union), Beidou (China), QZSS (Japan) and NAVIC (India). While the signals for these various systems are not interchangeable or directly interoperable, the different signal types can be used simultaneously to compute a single position based on more than one satellite constellation. When more than one satellite constellation is used, the device is often referred to as a "GNSS Receiver".
GNSS does not stand alone, it usually needs to communicate to be useful. An object's location data frequently needs to be communicated to another party. This is true in the overwhelming majority of "tracking" cases where the location needs to be transmitted somewhere else, such as an application server in the Cloud. In the case of battery-operated asset tracking solutions, having low power communications is absolutely essential. As a result, having low power, long range communication is necessary in many applications. This is where LoRa devices come in. LoRa devices are a fantastic complement to GNSS because the coverage area for GNSS services is widespread and the range of LoRa is the most significant of the long-range, low-power communication technologies.
Focus on the Important Things
While integrating with the LoRaWAN protocol is easy, sometimes the options can be daunting. For a given application, there might be two-dozen device manufacturers, a half-dozen gateway providers and several network implementation options ranging from Open Source through fully hosted. There are potentially hundreds of viable system options. A systems integrator (SI) or developer can look at these options and wonder, with trepidation, where to start. Voltaire stated: "the perfect is the enemy of the good"[1]. Voltaire was one of the many philosophers and thinkers that realized that searching for the "optimal" solution to a problem often leads to overlooking the solutions right in front of them, and can result in "paralysis by analysis". To help developers overcome this analysis paralysis, Semtech put together a kit for asset tracking with LoRa using GNSS. The kit includes a web interface showing the tracking history of up to six devices at the same time.
A primary motivator for our development of this kit was to enable fast and easy investigations into wireless tracking applications. Our hope is that people will use this kit to prove (or disprove) their use cases without having to spend a lot of time or money investigating different radios, gateways, servers, display tools, and all of the details associated with each of those elements. The idea was to have a single kit where people can test the hypothesis: "will this work for my application?" quickly and easily. If the answer is "no", then at least you didn't spend weeks trying to learn all of the details of GNSS and LoRa to no useful end. If the answer is "yes", then we can help you replicate this setup in whatever configuration works for you.
With the Asset Tracking Reference Kit, we have achieved our goal, making a proof-of-concept for tracking applications simple. This goal has been accomplished by combining a set of hardware and software components that work together well and offer a great amount of flexibility. Out of the box, the devices and connectivity will work to provide an end-to-end tracking system. The kit provides the most basic example for tracking to get immediate experience combining LoRa and GNSS capabilities. From these basic tools, we know SIs and developers will make truly fantastic solutions.
Connecting things has never been easier! Visit the LoRa Developer Portal to learn more about the Asset Tracking Reference Kit.
Semtech, the Semtech logo and LoRa® are registered trademarks or service marks of Semtech Corporation or its affiliates.

[1] Susan Ratcliffe (2011), Concise Oxford Dictionary of Quotations, Oxford University Press, p. 389, ISBN 978-0199567072